The Theme Park Hotel is a boutique-style, family-oriented, hotel conveniently located on the peak of Genting Highlands. It is recently renovated to be a fun, chic and comfortable boutique hotel to stay.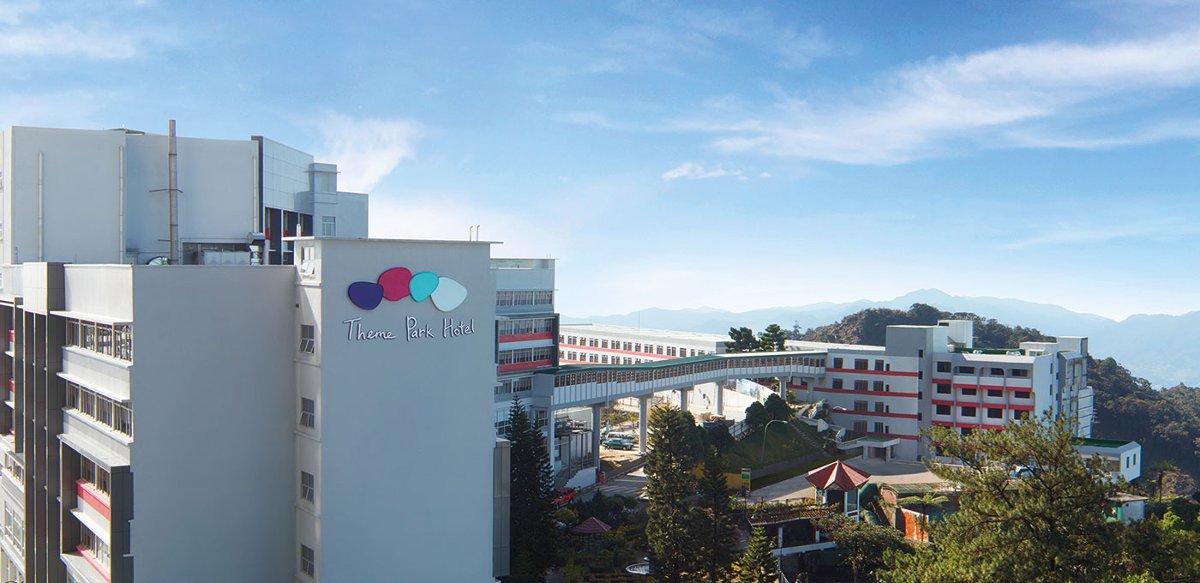 The Hotel is doorsteps away from the Arena of Stars and just short walk to the SkyAvenue lifestyle mall and SkyCasino, and these assure you plenty to explore while you are enjoying your stay there.
With its convenient location, it offers convenient access to many must-see attracions at the Genting Highlands.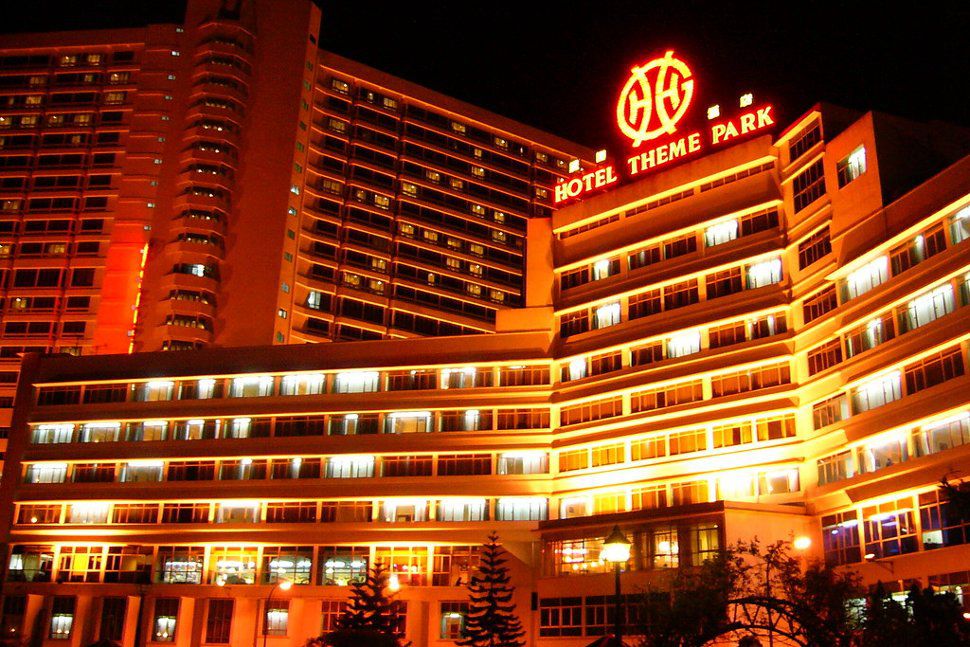 Upon stepping into the hotel lobby, you will immediately feel the difference which is splendidly decked out in massive trees that reach all the way up to the ceiling!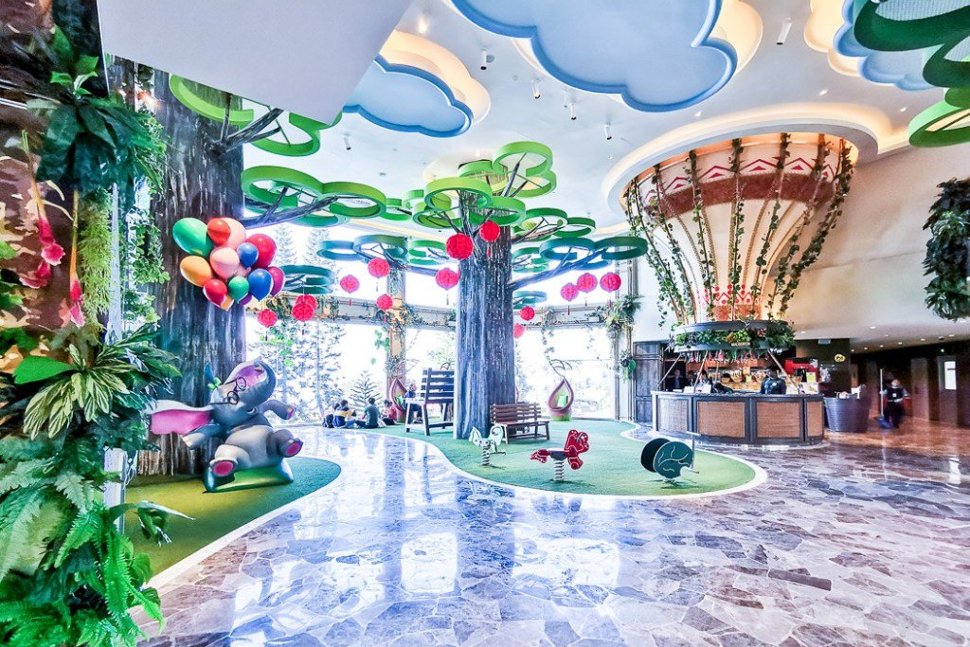 Accommodations
The hotel boasts 456 rooms spanning 8 floors, including Sixers, Quads, Kings as well as luxurious Suites for couples, hence, you can be assured of a comfortable stay with family and friends.
Catering for large occupancies, the rooms types offered accommodate between four and six guests, with colourful decor and children-inspired graffiti finished in a contemporary setting.
The Sixers rooms have three queen-sized beds (including a bunk bed) in a 300 square feet space. They are suitable for families or groups of friends who prefer to stay together in one room.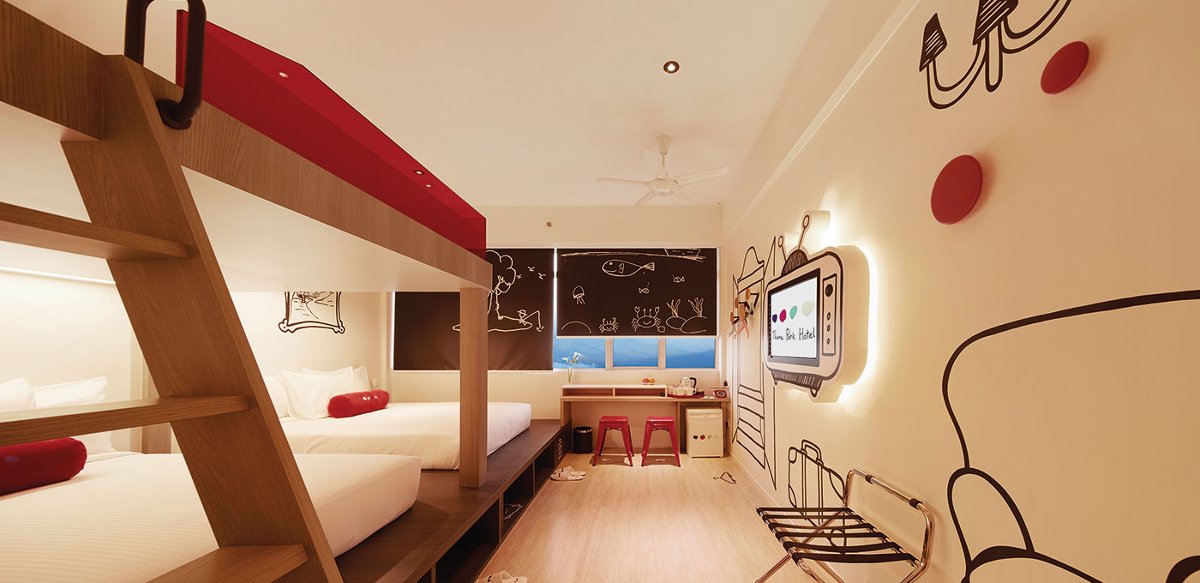 At every point of your stay, you will find quirky and playful décor that is bound to bring a smile to your face.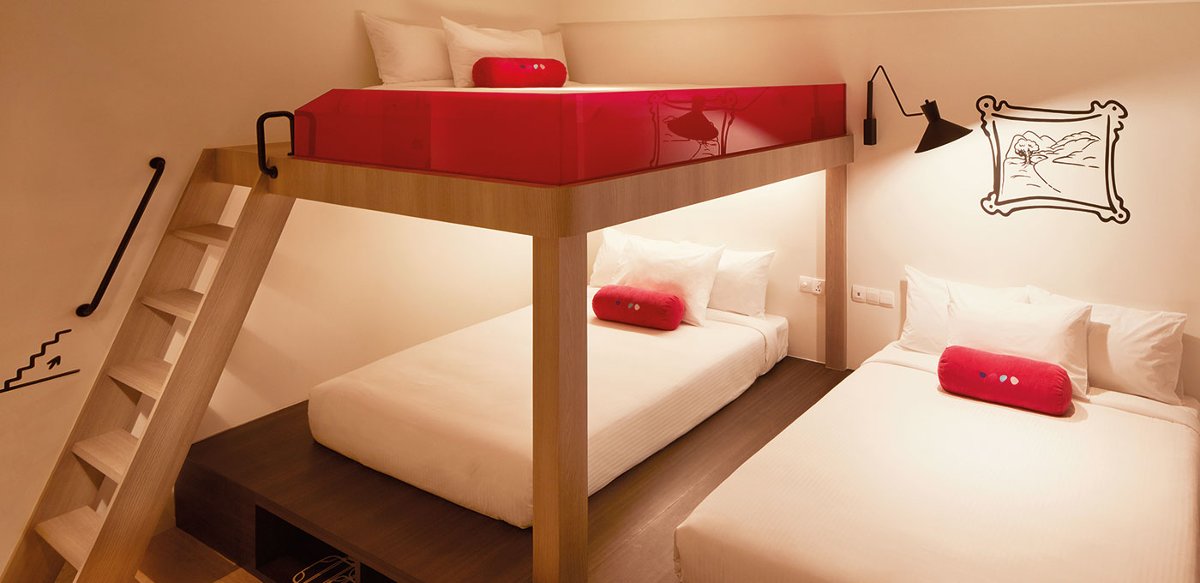 For a slightly smaller group, the hotel has the Quads rooms which have two queen-sized beds and can accommodate up to four people in an approximately 260 square feet space.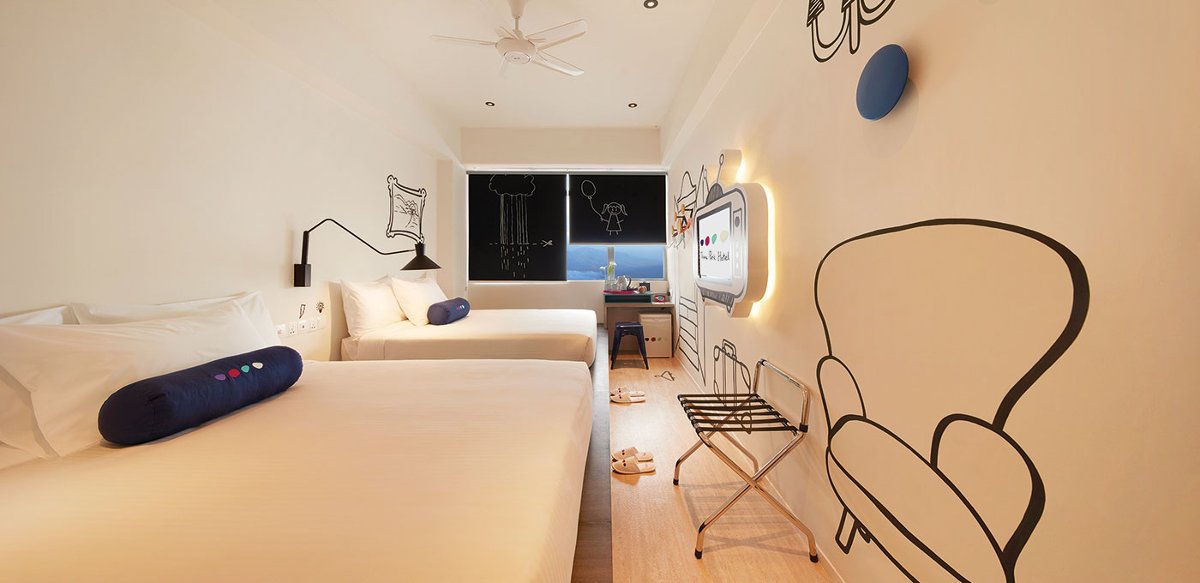 The room decor is quirky and fun, with doodles cleverly drawn all over the room. Outlines of the closets are beautifully drawn and clothes can be hung on knobs.
The television set too is hung on brackets, with artwork around it to make it seem that it is enclosed in a TV cabinet.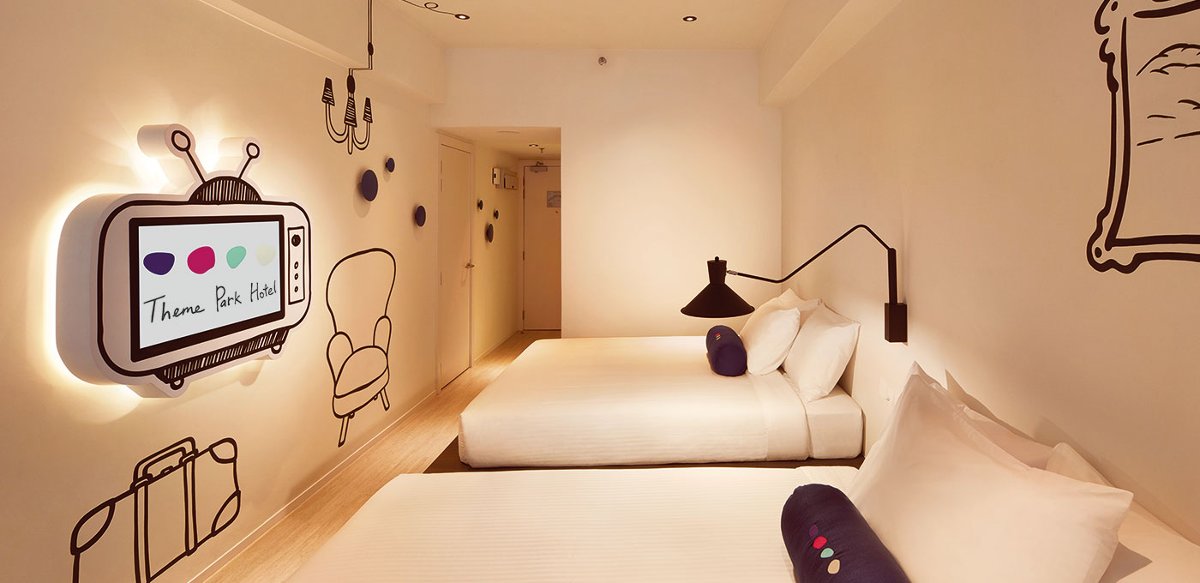 The spacious 220 sqft Kings rooms features a king-sized bed, separate bathroom and toilet as well as the basic necessities like hair dryer, kettle, television, mini fridge, toiletries and towels.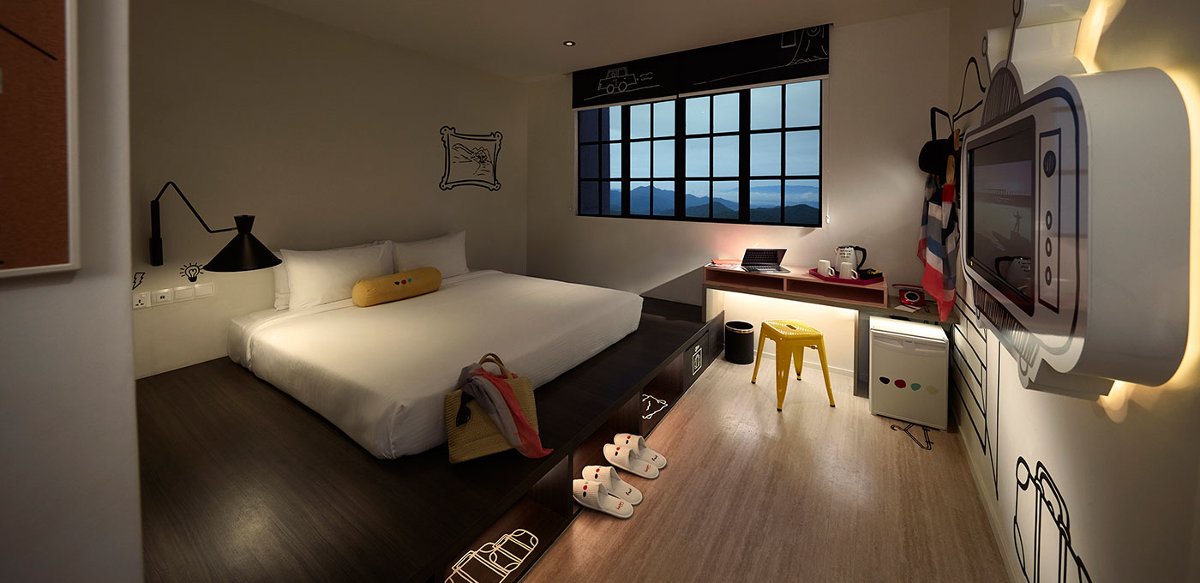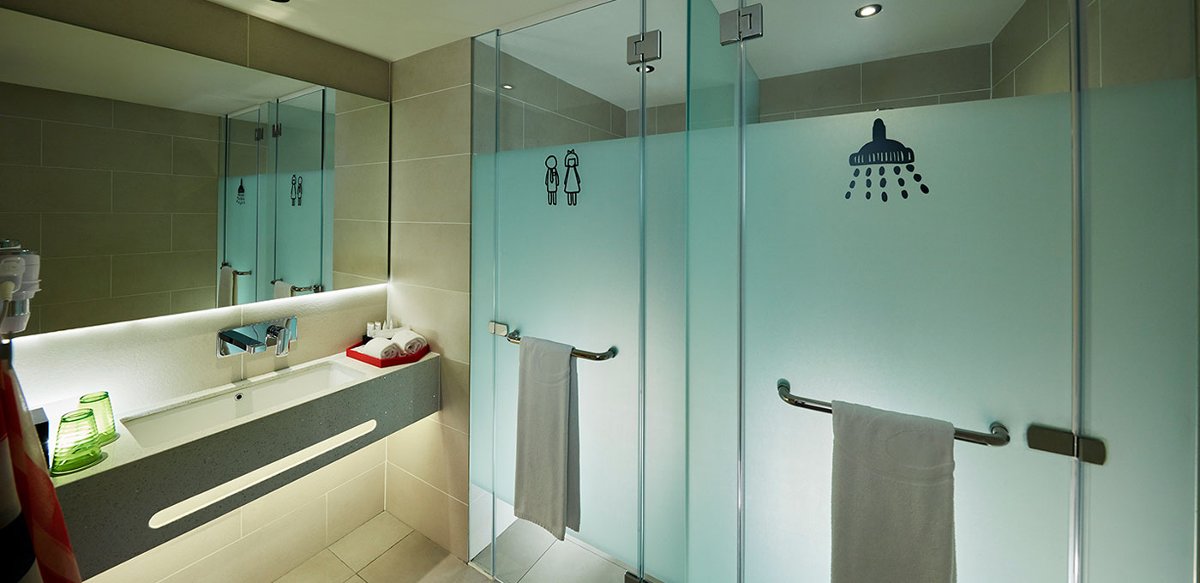 The Hotel Suite is measured at 550 sqft space and comes with a clawfoot bathtub. It overlooks an uninterrupted panorama of the Genting Valley that offers stunning views of natural mountain forests.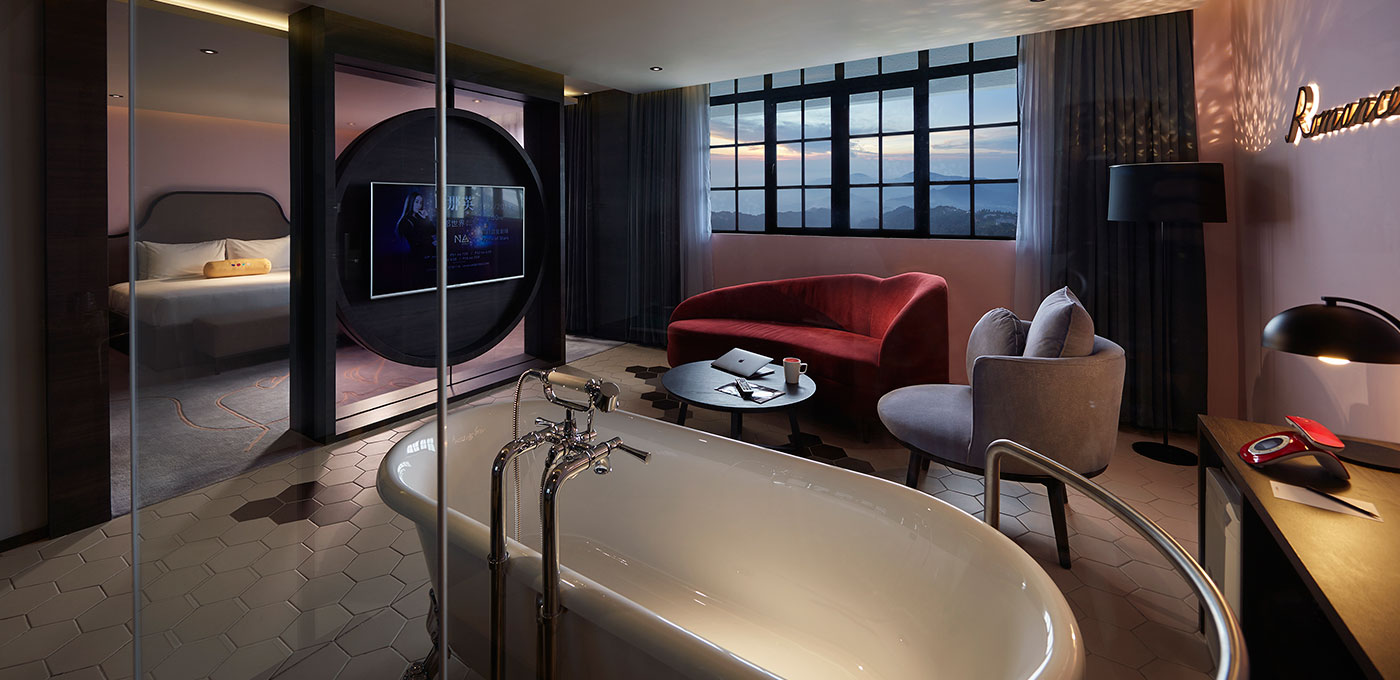 Unique in decor, feel and furnishing, the Hotel Suite is always the favourite choice! The bed is comfortable while the pillows are fluffy to ensure you a very good rest.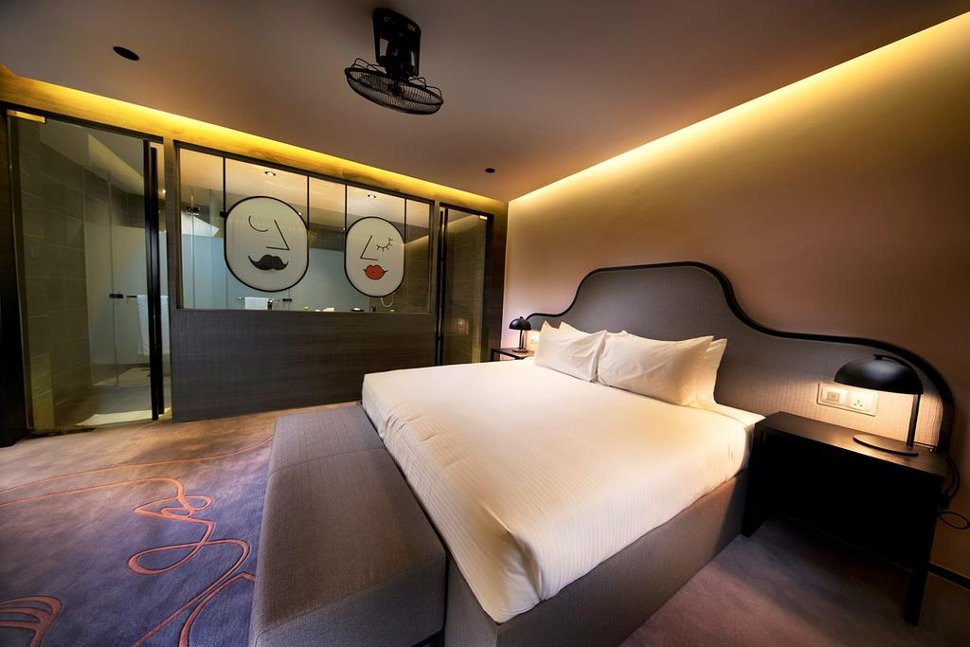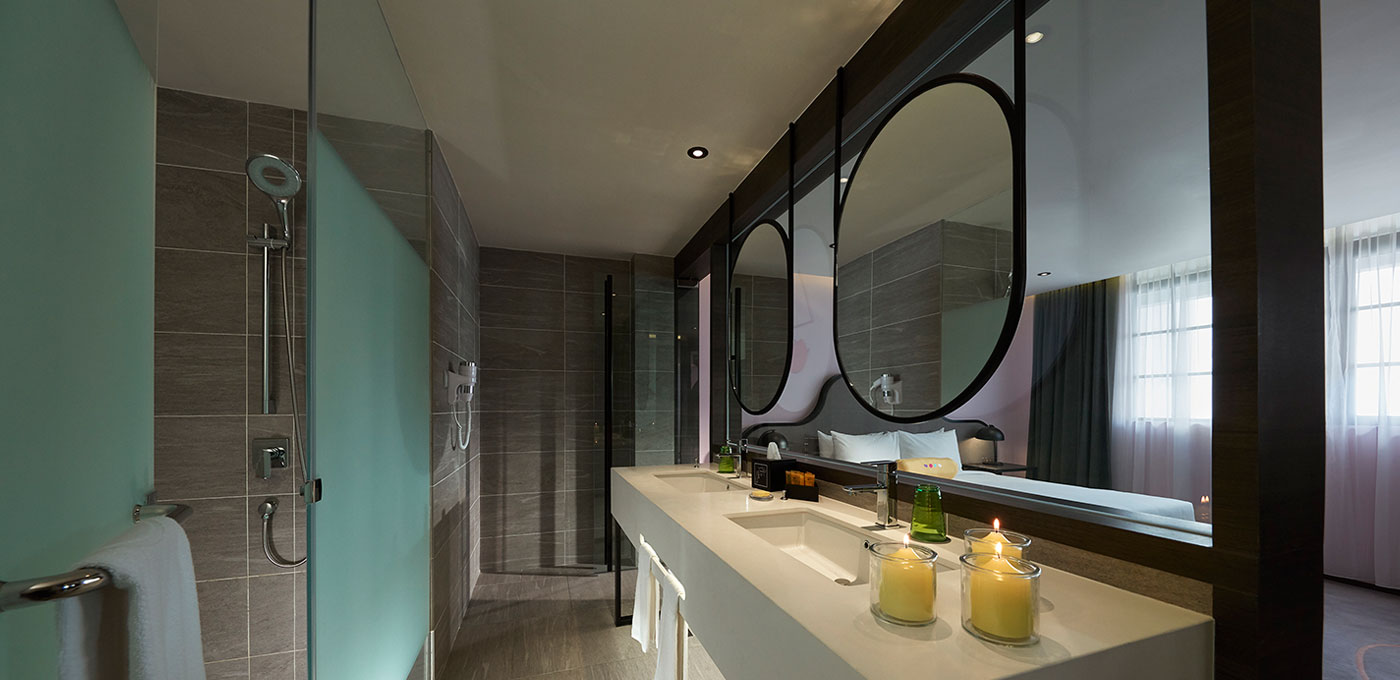 All rooms are equipped with a fan to complement the cool mountain air. Power points are aplenty and the ones beside the bed also come with USB charging point.
Each room has a private bathroom with shower facilities and toiletries.
Facilities and services
The hotel is refreshed with its quirky and colourful decor plus huge room space. Also, you will find these amenities in the room for your enjoyment.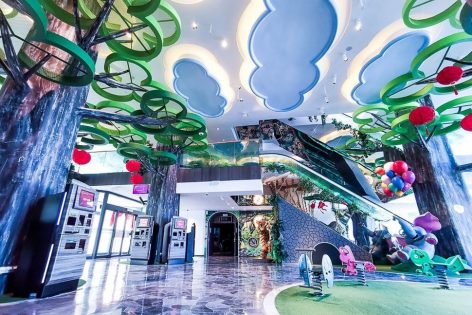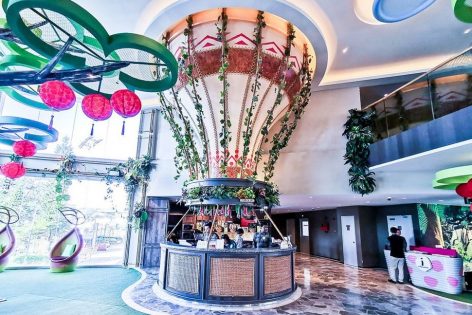 In-house video
In-house radio
Telephone
IDD access
Fan
Tea & coffee making facilities
Kettle
Open top safe-box
Standing shower
TV
Mini fridge
Mineral water
Free room Wi-Fi
Bedroom slippers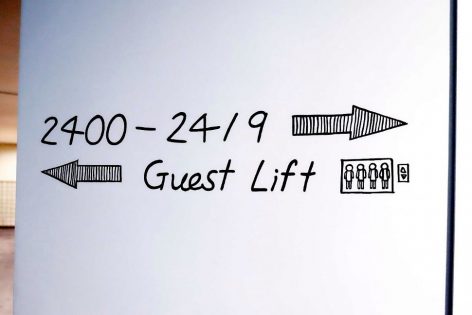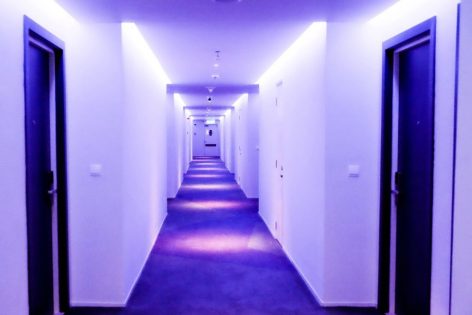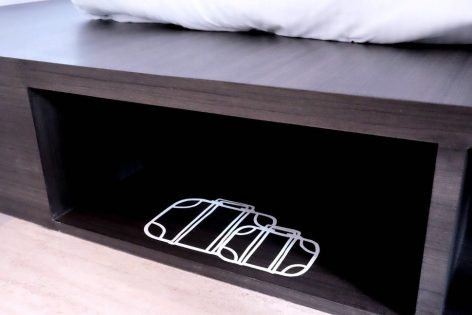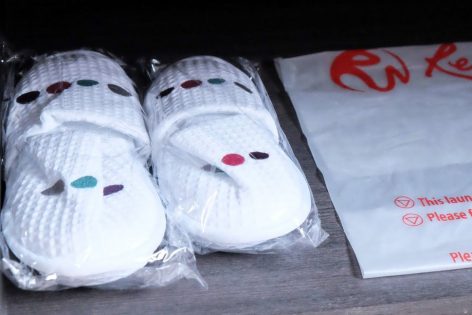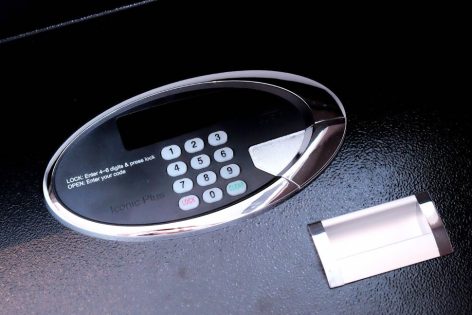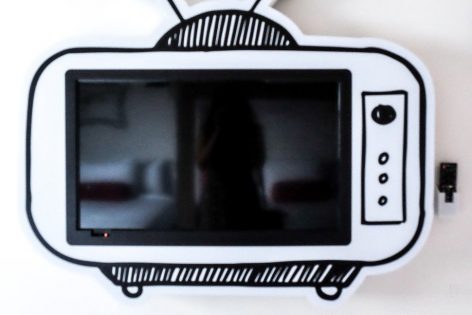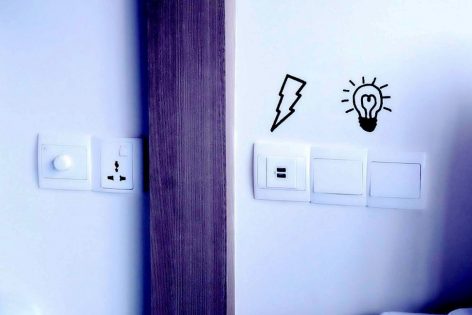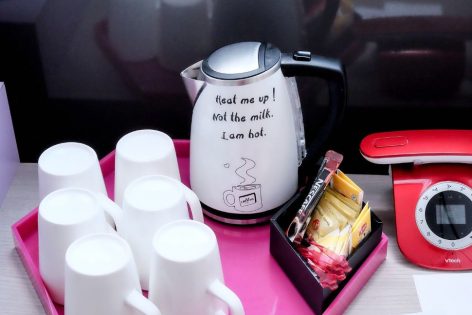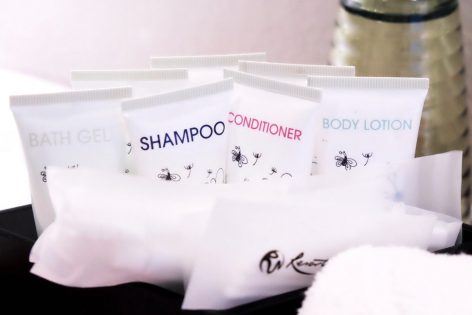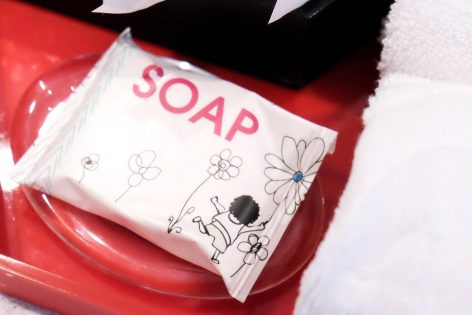 For a quick bite, do not forget to check out Eatopia which offers value for money and convenience with its grab-and-go concept.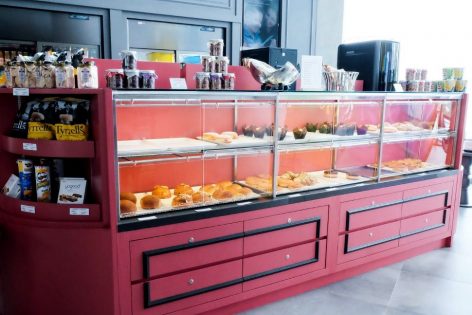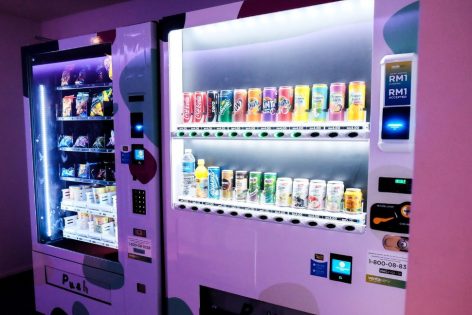 Eatopia is a cafe at the hotel's lobby that serves bakery items including pastries, sandwich wraps, convenience mart food and local favourite Nasi Lemak.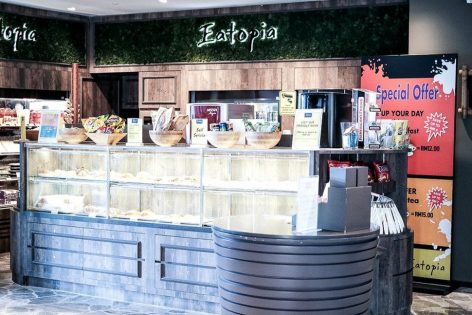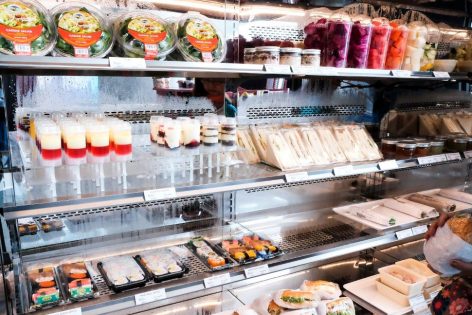 Step into the English Talking Garden located just behind the hotel and enjoy the wonderful fresh air and scenery. The Garden is opened from 8am – 10pm daily.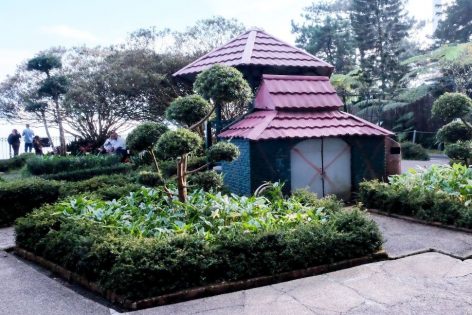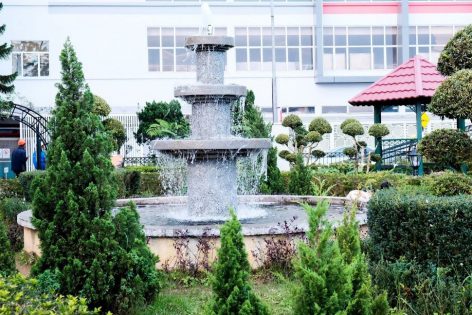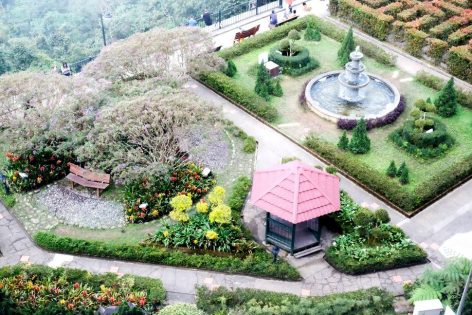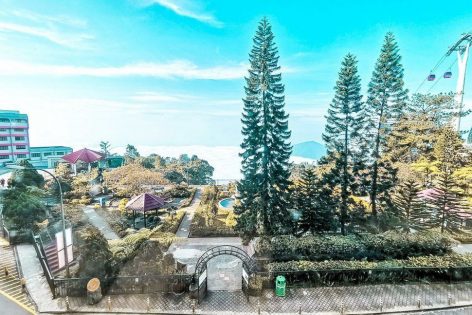 How to go to the Hotel
The Theme Park Hotel is a family-oriented hotel conveniently located on the peak of Genting Highlands. It is doorsteps away from the Arena of Stars, the SkyAvenue lifestyle mall and the SkyCasino.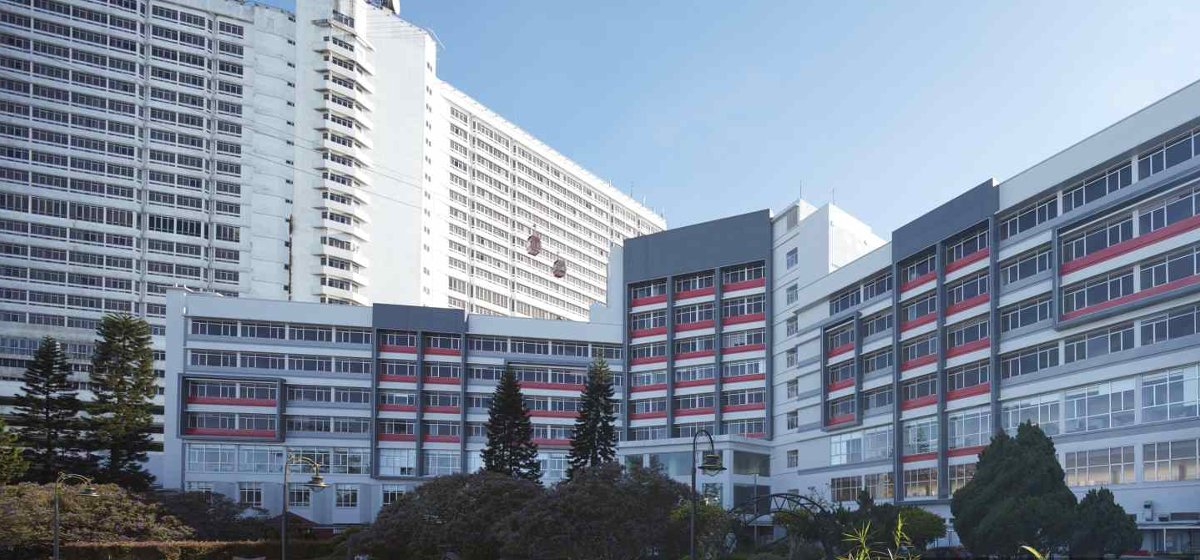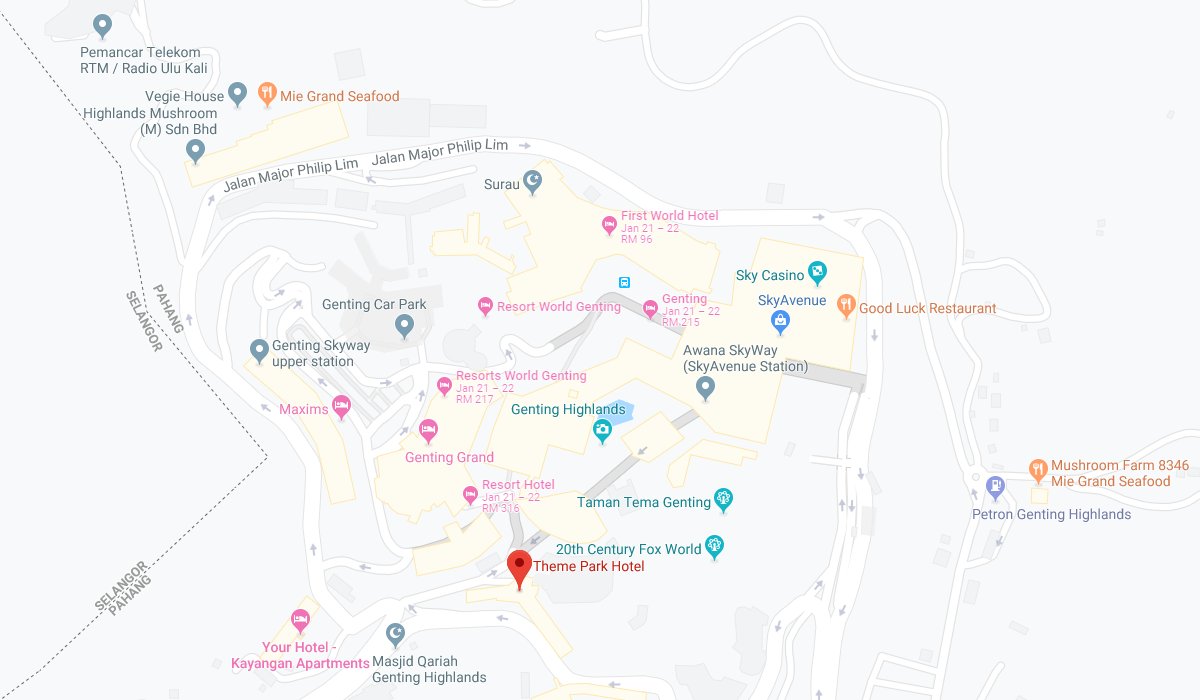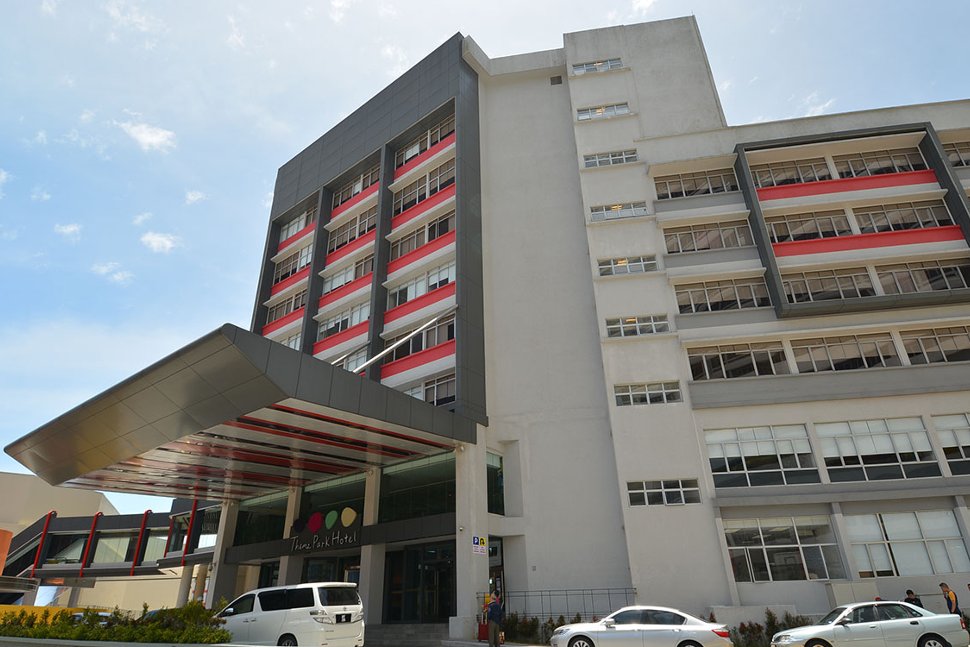 Make a Reservation
The Theme Park Hotel accommodates 456 rooms spanning 8 floors for you to enjoy a comfortable stay with family and friends. It is an excellent choice for your stay in Genting Highlands.
The Theme Park Hotel is a boutique hotel ideally crafted for fun-loving travellers.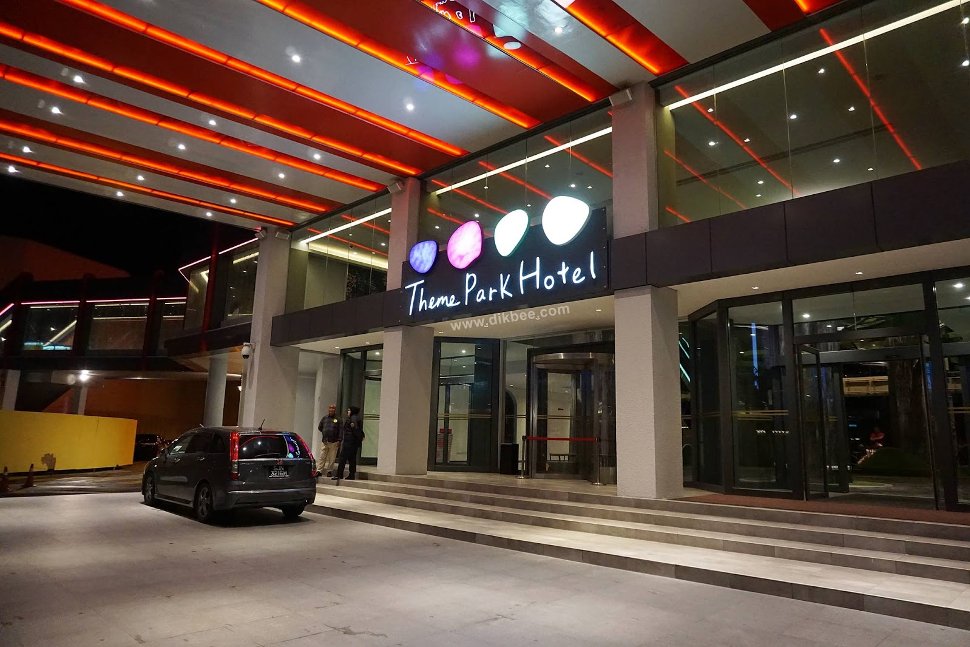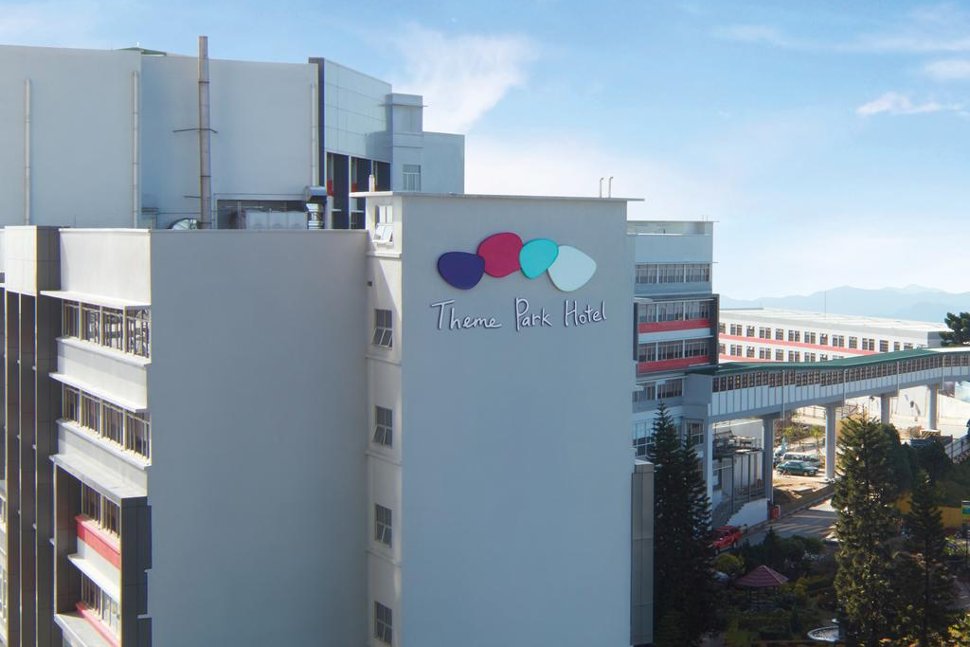 References
Here are some articles on the experience of the Theme Park Hotel. Do check them out if interested.
(Visited 1,344 times, 1 visits today)