8 August 2021
Phase 1 of the Putrajaya Line (formerly known as the Sungai Buloh-Serdang-Putrajaya Line) — the second line of the Klang Valley mass rapid transit (MRT) project — is slated to be operational by July 2021, and Phase 2, two years later. It is expected to have an initial ridership of over 104,000 passengers when it begins operations.
While property experts agree that the Putrajaya Line will have a positive impact on property values and investment returns, it will also facilitate travel to and from the city for those who live near the MRT stations.
Knight Frank Malaysia managing director Sarkunan Subramaniam notes that the new infrastructure will help rejuvenate old areas, making Kuala Lumpur a more liveable city as the newer areas are connected to the older ones.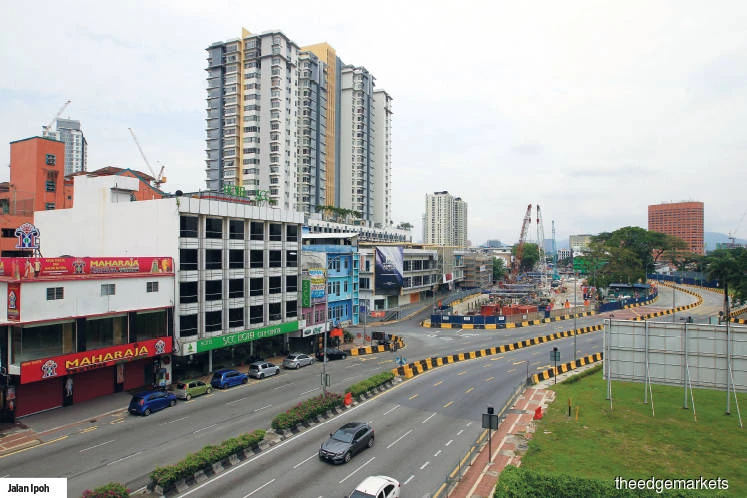 "For example, the development of Bangsar South has opened up the whole area for people to live and work in … so a similar situation is going to happen in these old areas. Opening up an area for urban renewal is a good thing for city living," he tells City & Country.
With 35 stations, of which 11 are interchange stations, the length of the Putrajaya Line will be 52.2km. It will pass through the older parts of KL such as Kepong, Sentul, Chan Sow Lin, Kuchai Lama, Serdang and Seri Kembangan.
In this issue, we look at four old and established areas, namely Jalan Ipoh, Sentul West, Titiwangsa and Kampung Baru North. Not only are these areas strategically located, with close proximity to the city centre, but they are also served by existing public transport. There are KTM Komuter stations in Sentul and Jalan Ipoh as well as MRT and light rail transit (LRT) stations in Sentul, Titiwangsa and Kampung Baru. Titiwangsa also has a monorail station.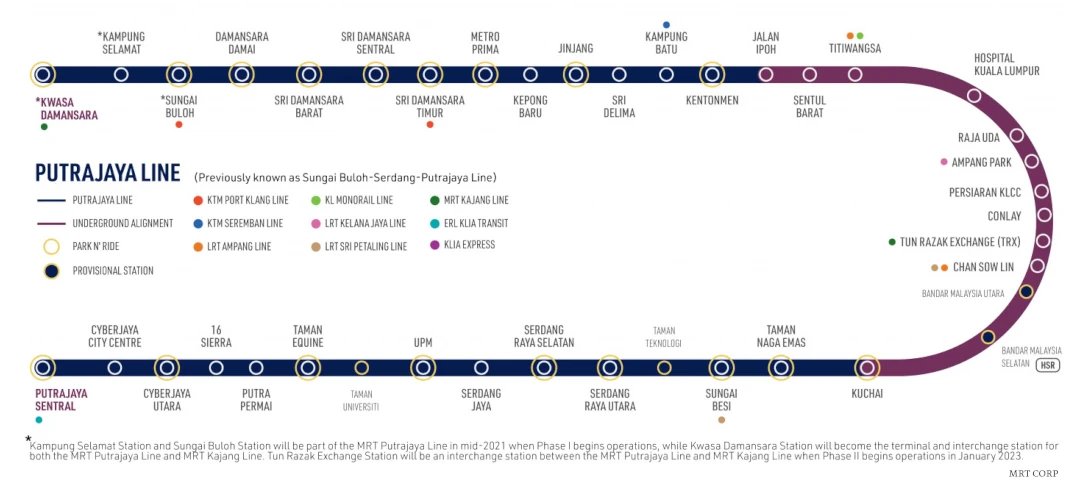 Urban renewal
Property players observe that the people who live in these areas — with the exception of Titiwangsa — are mostly workers and the availability of the MRT stations will provide greater convenience for them.
Henry Butcher Real Estate Sdn Bhd chief operating officer Tang Chee Meng believes the Putrajaya Line will boost the desirability and attractiveness of these areas, while attracting more residents in other areas that are not served by public transport.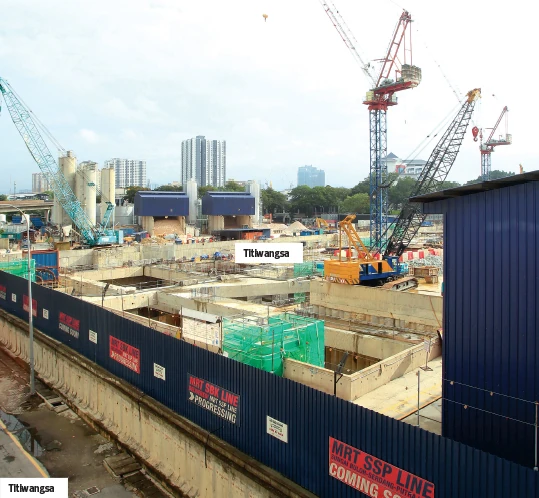 "These areas are very good for people who work within the city centre, especially when property prices and rents there are still reasonable. Furthermore, these are quite developed and mature areas close to all kinds of urban amenities and well connected by road to all parts of the city and beyond as well as being served by public transport," he says.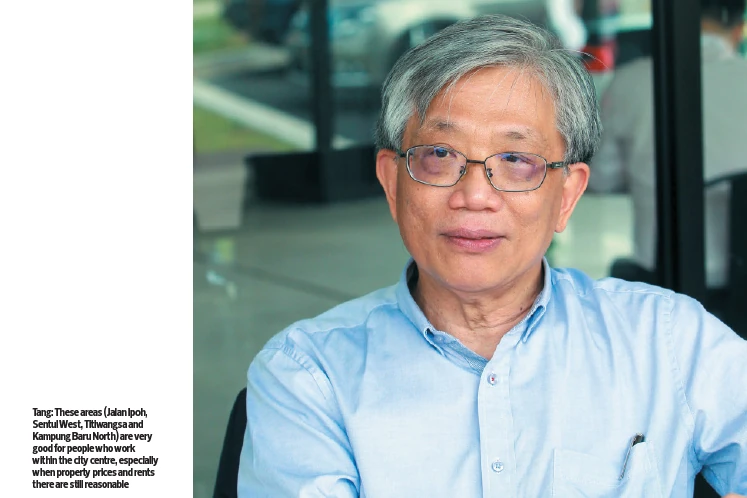 "Certain parts of these areas are ripe for rejuvenation and redevelopment and when these infrastructure projects materialise, the image of these areas will be enhanced and it will ultimately lead to a rise in property values."
Laurelcap Sdn Bhd executive director Stanley Toh notes that the demographics in these four areas are mainly young adults and newly married couples working in the city, expatriates as well as yuppies working from home.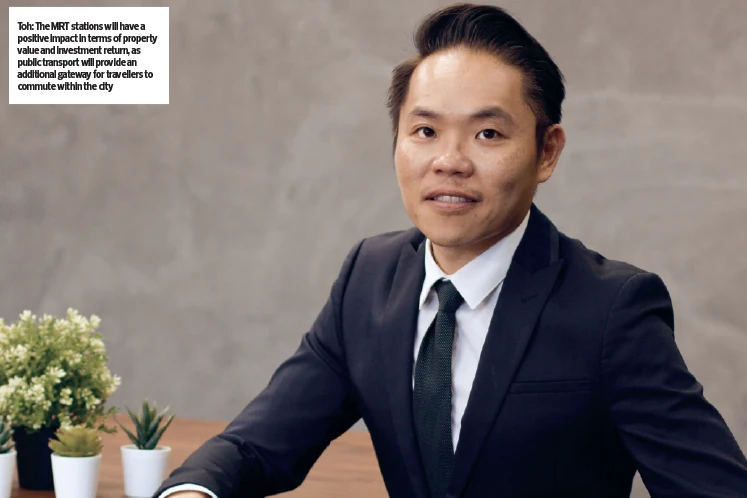 "Factors such as their proximity to KL city centre, a good road network, an established neighbourhood with good public amenities and facilities, and mostly freehold projects are the attractions for owner-occupiers and investors," he says.
"The MRT stations will have a positive impact in terms of property value and investment return, as public transport will provide an additional gateway for travellers to commute within the city, and that creates a sense of convenience for residents in the neighbourhood."
In fact, in these areas there have been several major completed developments such as The Capers, The Fennel, The Tamarind, The Saffron and The Maple in Sentul by YTL Land & Development Bhd as well as Setia Sky Residence at Kampung Baru North by S P Setia Bhd.
There are also a number of ongoing projects, such as The ERA @ Duta North off Jalan Ipoh by JKG Land Bhd; TR Residence @ Jalan Tun Razak in Titiwangsa by MKH Bhd; M Centura in Sentul by Mah Sing Group Bhd; Minest Residence in Sentul by Mi Nest Development Sdn Bhd; Tuan Residence in Jalan Ipoh by Elite World Development Sdn Bhd; Duta Park Residence in Jalan Ipoh by Malton Bhd as well as M101 Skywheel in Kampung Baru by M101 Holdings Sdn Bhd.
Future developments include a 28-acre parcel by UOA Development Bhd in Jalan Ipoh and a 2.28-acre project jointly developed by Sunsuria Bhd and Genlin Development Sdn Bhd in Sentul.
Tang believes the profile of the residents in these four areas may change to younger and slightly more affluent families as new developments there will comprise high-rise residential towers with smaller unit sizes.
"The proposed redevelopment of Kampung Baru has been many years in the making. The main problem has been to get the many owners to agree on the development plan, model and values. A master plan has already been prepared for the redevelopment of the area but the progress seems to be bogged down by the inability to get everyone to agree on it. Some individual owners have nevertheless gone ahead on their own to redevelop their land," he says.
Sentul
Knight Frank's Sarkunan notes that most of the available land in these four areas has been developed, except for Kampung Baru and Sentul. He believes that the area that will see the most impact from the Putrajaya Line will be Sentul, owing to YTL Land's ongoing efforts to revive the area and turn it into an upper-class neighbourhood.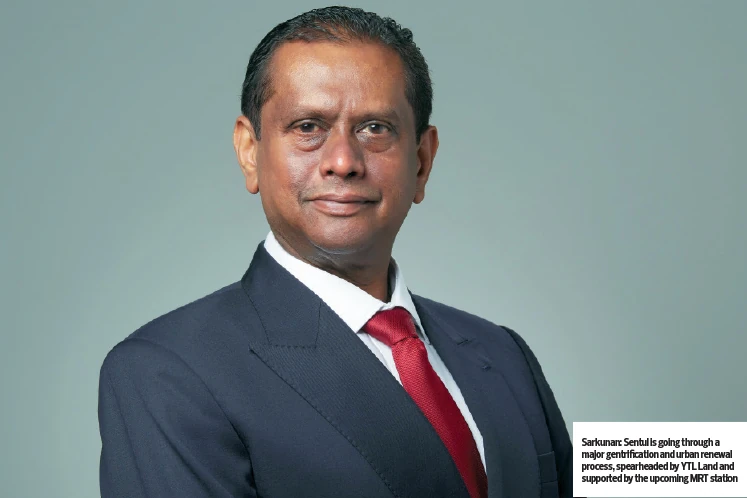 "Sentul is going through a major gentrification and urban renewal process, spearheaded by YTL Land and supported by the upcoming MRT station. The whole area has been uplifted," says Sarkunan.
YTL Land owns 294 acres of land in Sentul, which comprises distinct halves — Sentul West, lush and green with a private park and upmarket homes, and the trendier Sentul East, with more high-rise residential and commercial offerings. These two areas are divided by the Sentul KTM Komuter track.
Some of the landmarks in this former railway hub are the Kuala Lumpur Performing Arts Centre (klpac) and Sentul Depot, which have been given a new lease of life under the developer's Sentul urban renewal initiative. klpac is a fully integrated performing arts centre while Sentul Depot is a 200,000 sq ft event space.
Sarkunan observes that professionals and white-collar workers in their late twenties to early thirties have been buying properties in Sentul, enjoying the convenience of the nearby LRT stations to travel to work in the city centre. With the more integrated public transport, coupled with the transformation of the area, he expects demand for housing in Sentul to continue to come from this group of purchasers.
He notes that potential buyers will be a mix of owner-occupiers and investors. He thinks investors should look for residential properties that can be rented out for RM1,500 to RM3,000 a month as it is within the affordability range of professionals and white-collar workers.
"The rent in Sentul cannot go above RM5,000 as there are more high-end offerings in the neighbouring KLCC area," he says. "Meanwhile, for house types and prices, I think they should be apartment units, with built-ups of 500 to 1,500 sq ft and priced between RM700,000 and RM1.5 million each. The target market is a mix of singles, couples and families."
With more developments coming up in these four areas, Laurelcap's Toh expects more traffic congestion. He believes the traffic issue can be solved with proper feasibility studies but he is concerned about the mismatch between the product offerings and what the consumer wants.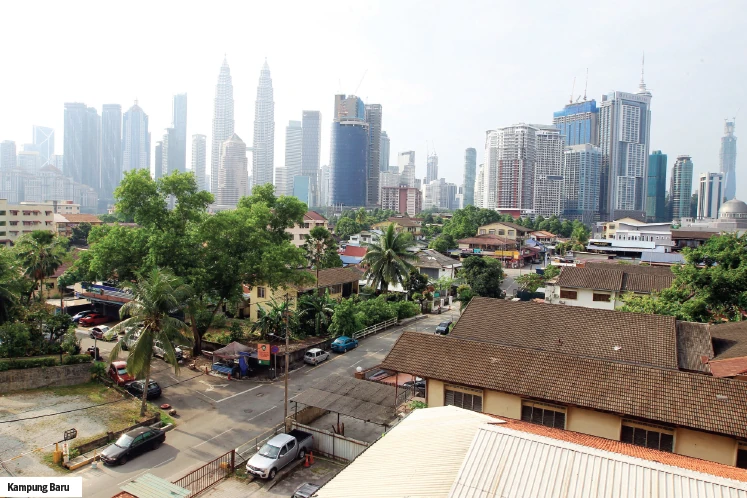 Challenges and prospects
Sarkunan has two concerns regarding the MRT stations in these four areas. "My first concern would be the final-mile connectivity from the MRT stations. A seamless connection is important and commuters need to have a direct access from their homes to the stations," he says.
"My second concern is the parking, which also arises from the first concern. If there is no final-mile connectivity, commuters will have to drive and park near or at the stations. It is important to have enough parking bays at the stations too."
Nevertheless, the property experts are generally optimistic about the future of these areas owing to their locations. Moreover, the upcoming Putrajaya Line will help ease traffic congestion and provide additional transport options.
Henry Butcher's Tang notes that the Putrajaya Line will increase the areas' appeal as a place to live in, and hence more people will move into these areas. "It has been noted that in Singapore and Hong Kong, developments located near MRT stations have enjoyed stronger demand from both buyers and tenants, and they have generally enjoyed faster capital appreciation. The future of these areas looks promising."
Source: www.theedgemarkets.com
(Visited 75 times, 2 visits today)