The Surian MRT Station is an MRT station serving Kota Damansara in Selangor. It serves as one of the stations on Sungai Buloh-Kajang Line.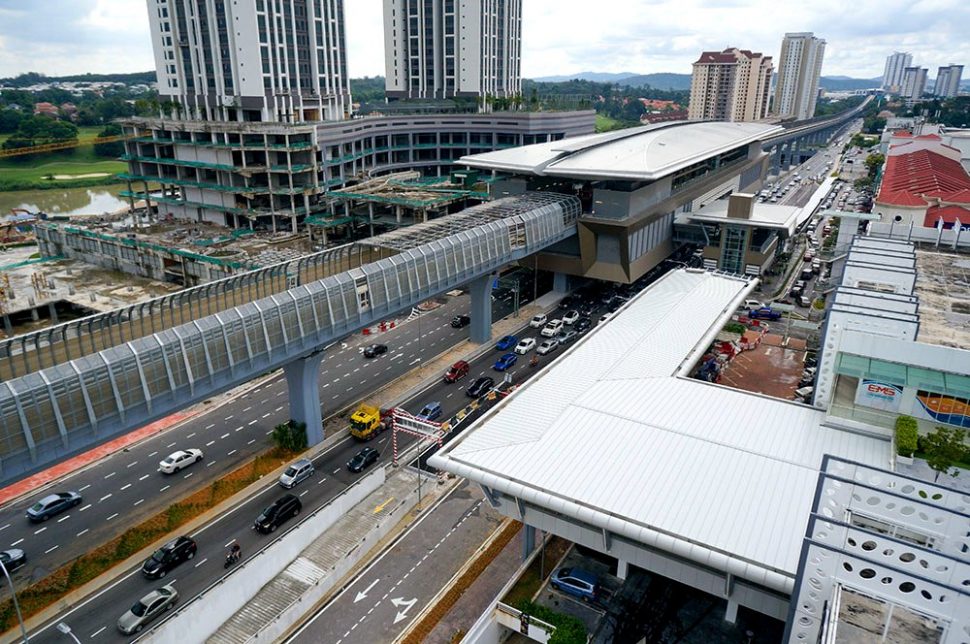 The station is located near Dataran Sunway and Sunway Giza shopping center in Kota Damansara.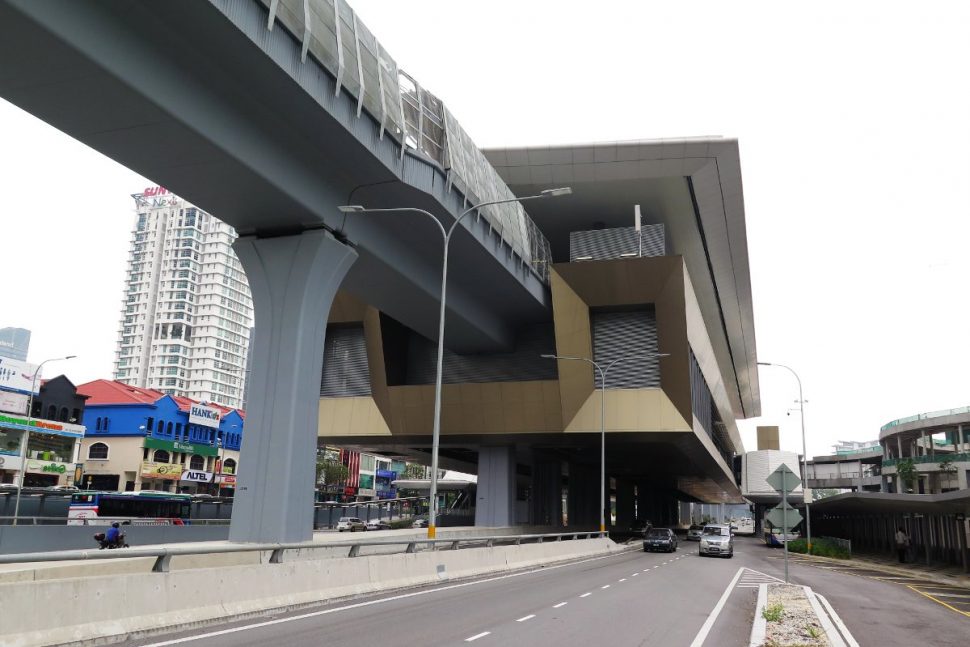 Station Design
The station adopts the standard elevated station design for the MRT Sungai Buloh-Kajang Line, with two side platforms above the concourse level. The station is located directly above Persiaran Surian, with its supporting columns sited along the median of the road.
The station has two entrances – Entrance A and Entrance B – leading from both sides of Persiaran Surian. Entrance B is also accessible from Jalan PJU 5/8 which runs parallel to Persiaran Surian.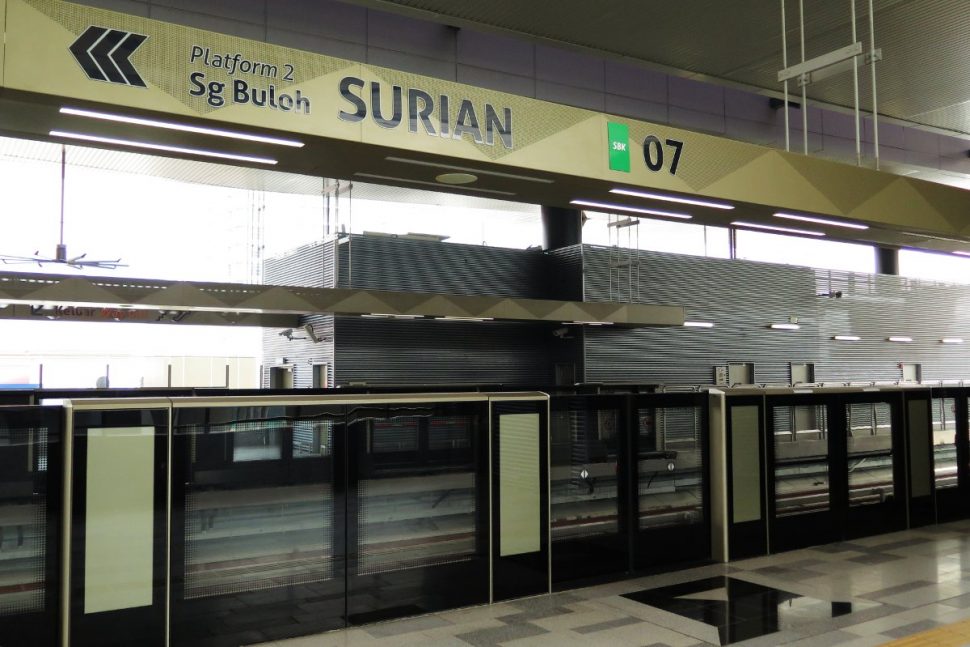 There are feeder bus stops, taxi lay-bys and also drop-off areas at both entrances along Persiaran Surian.
The station is located next to the Dataran Sunway commercial area or Section PJU5 of Kota Damansara and is linked with the adjacent Sunway Nexis development via an elevated pedestrian linkway from Entrance B.
Another elevated pedestrian linkway has also been constructed to connect the station's Entrance A with the Tropicana Gardens, a 17-acre mixed development by Tropicana Corporation Berhad, on the south side of Persiaran Surian.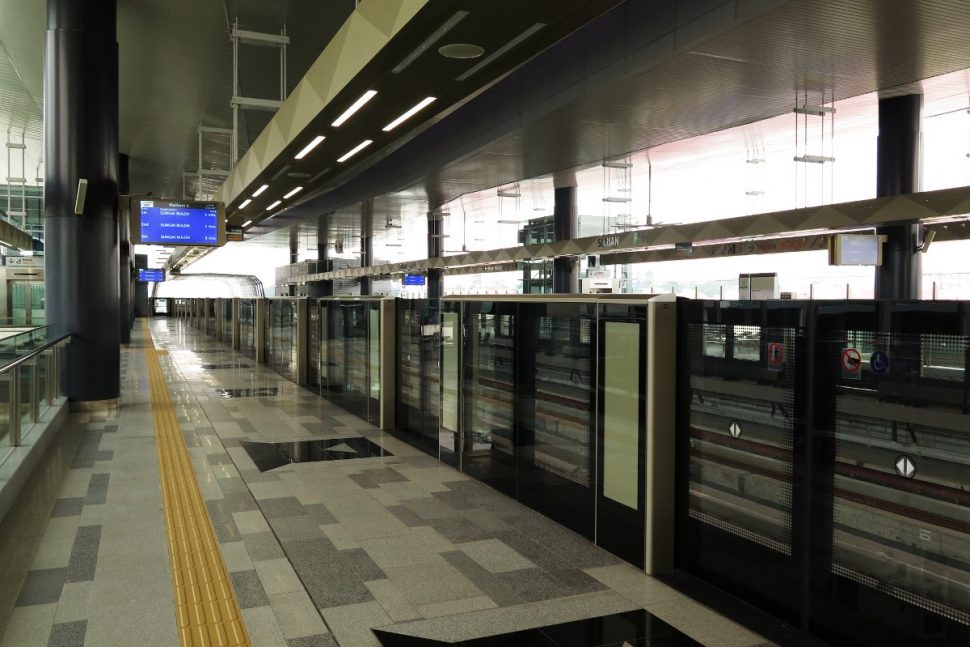 The Sunway Giza Mall is also located near the station while Encorp Strand Mall and Giant Hypermarket Kota Damansara are located about 1km away.
Station Layout
Level
Description
Platform Level (L2)
Platform 1: Sungai Buloh–Kajang Line towards Kajang (SBK35)
Platform 2: Sungai Buloh–Kajang Line towards Sungai Buloh (SBK1)
Concourse (L1)
Faregates to Paid Area; Escalators to Platforms; Ticketing Machines; Customer Service Office; Station Control; Shops; Entrance A escalator and lift from Ground Level Persiaran Surian (Sungai Buloh-bound) and future pedestrian linkway to Tropicana Gardens; Entrance B escalators and lifts from Ground Level Persiaran Surian (Petaling Jaya-bound), Jalan PJU 5/8 and the elevated pedestrian walkway from Sunway Nexis.
Ground Level (G)
Feeder Bus Stop, Taxi Lay-By, Kiss and Ride Lay-By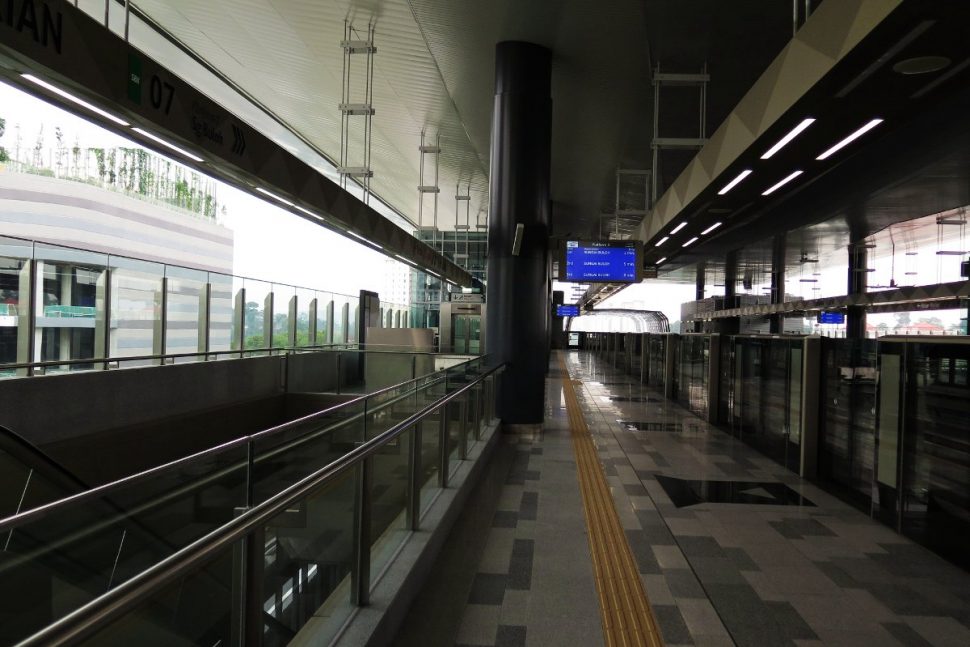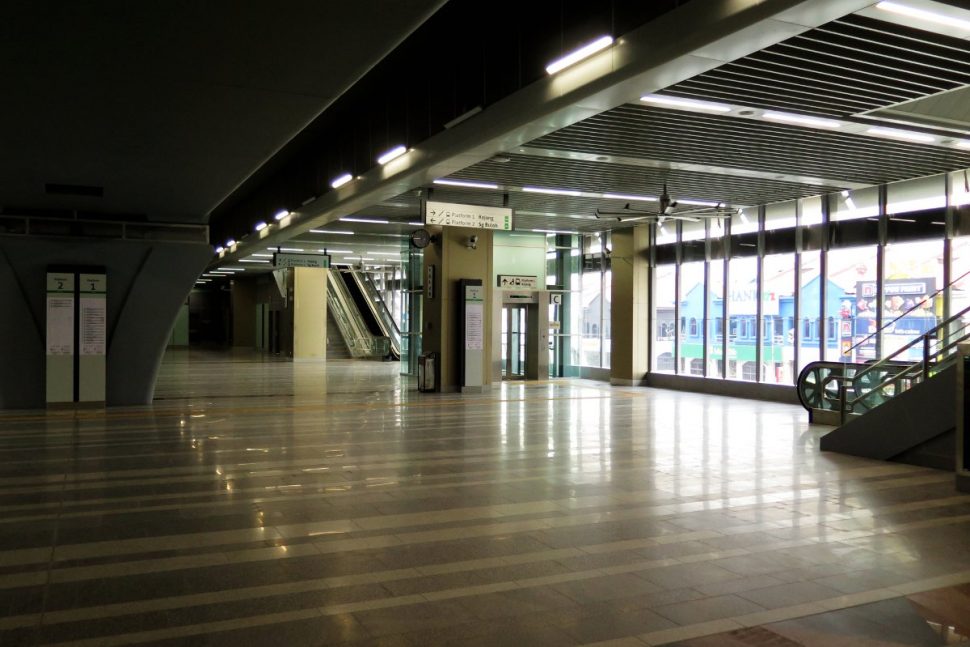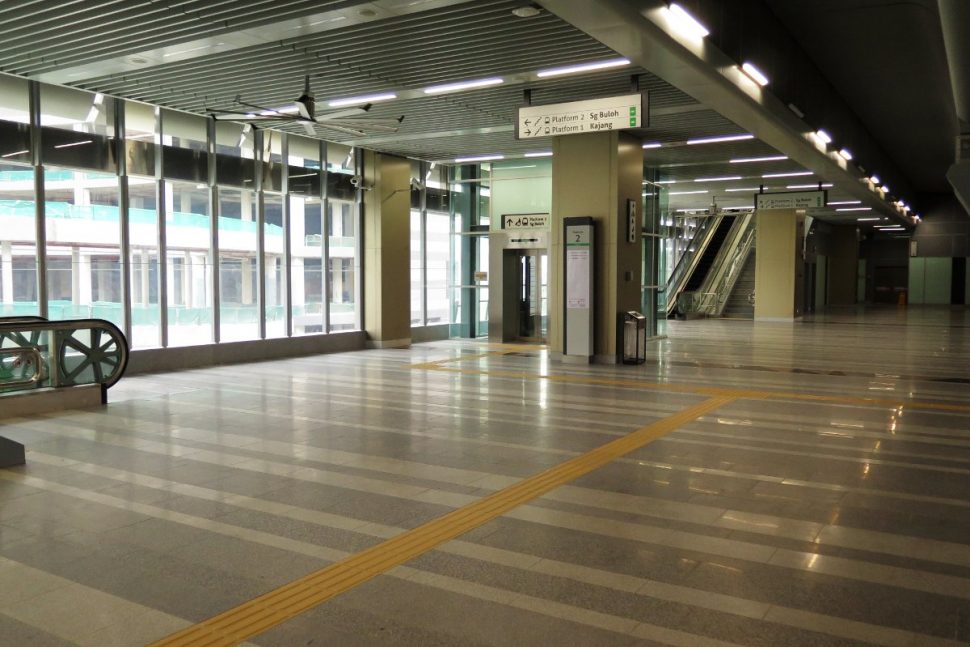 Location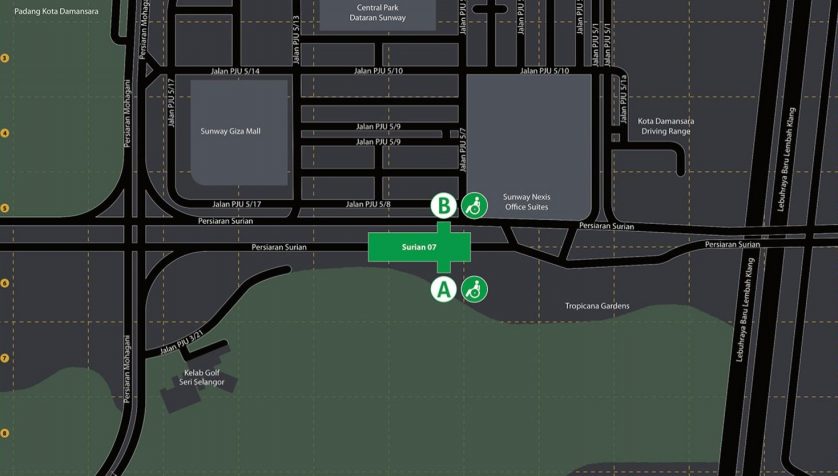 Facilities
Feeder Bus
Lift
Escalator
Public Telephone
Ticket Vending Machine
Public Toilets
Surau
Side Platform
Customer Service Office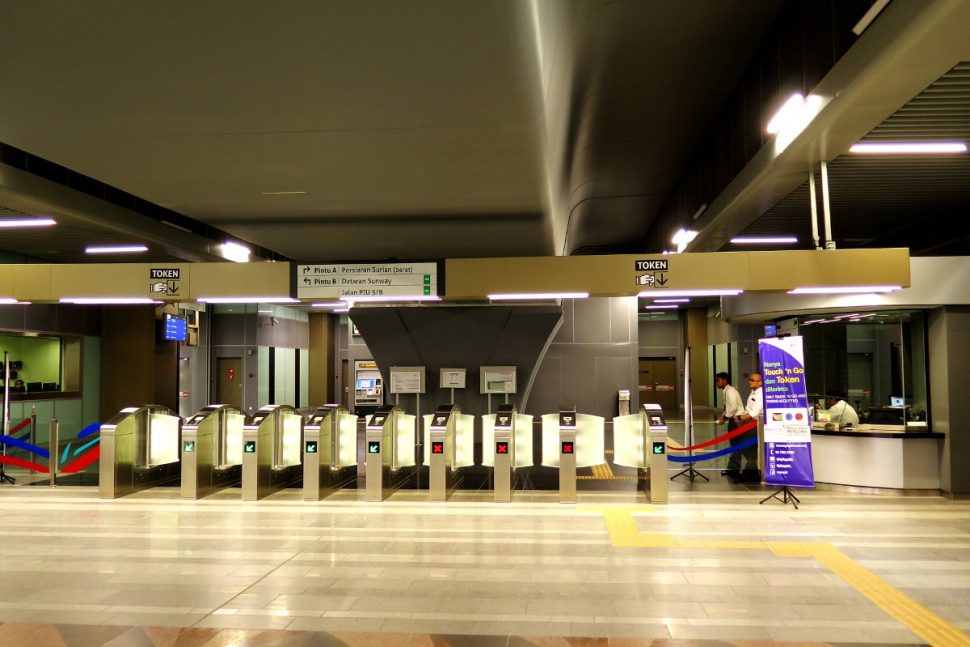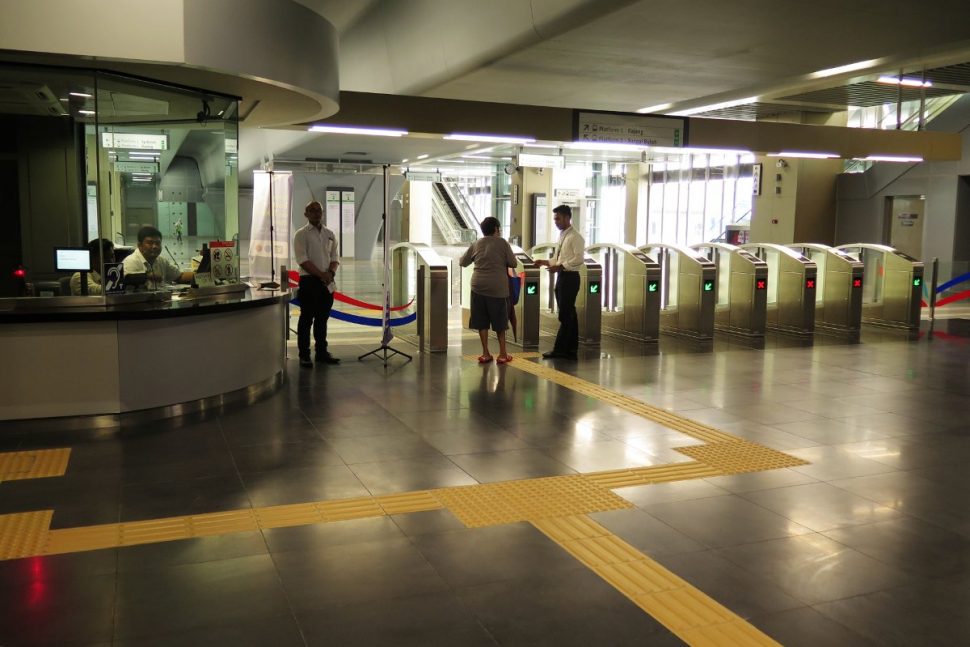 MRT Feeder Bus Services
With the opening of the MRT Sungai Buloh-Kajang Line, feeder buses also began operating linking the station with several housing and industrial areas in Sunway Damansara, Tropicana and Subang.
The feeder buses operate from the station's feeder bus stops adjacent to the station.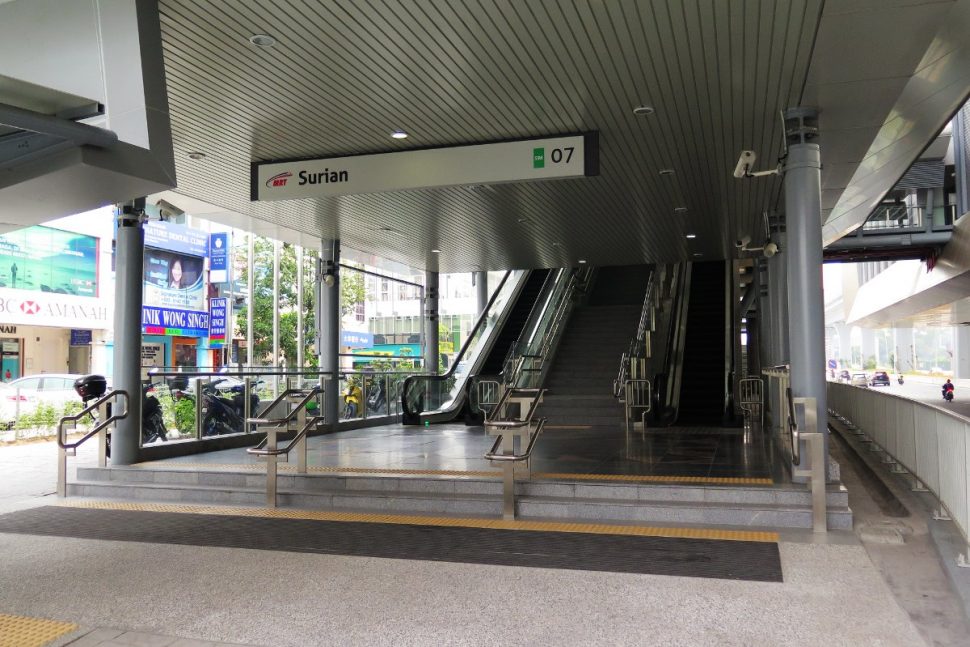 | Bus | Service Route | Via |
| --- | --- | --- |
| T807 | Surian station to/from Kota Damansara Seksyen 11 | Persiaran Tropicana, Jalan PJU 1A/1, Lembah Subang station, Jalan Tropika Utama |
| T808 | Surian station to/from Mutiara Tropicana, Ara Damansara | Jalan PJU 5/1, Persiaran Mahogani |
| U780 | Pasar Seni to/from Kota Damansara Section 8 | Jalan Tun Tan Cheng Lock, Jalan Tun Sambanthan (KL Sentral), Jalan Bangsar, Federal Highway, Jalan Utara, Jalan Semangat, Jalan SS 2/55, Damansara-Puchong Expressway (Bandar Utama), Persiaran Surian, Persiaran Mahogani, Jalan Pekaka |
| U802 | Kelana Jaya LRT to/from Kota Damansara Section 11 | Damansara-Puchong Expressway, Persiaran Bandar Utama, Lebuh Bandar Utama, Persiaran Surian, Jalan Camar |
| BET1 | Pasar Seni to/from Kota Damansara Section 8 | Jalan Tun Tan Cheng Lock, Jalan Tun Sambanthan (KL Sentral), Jalan Syed Putra (Mid Valley), Sprint Highway, Penchala Link, Damansara-Puchong Expressway (Bandar Utama), Persiaran Surian, Persiaran Mahogani, Jalan Pekaka |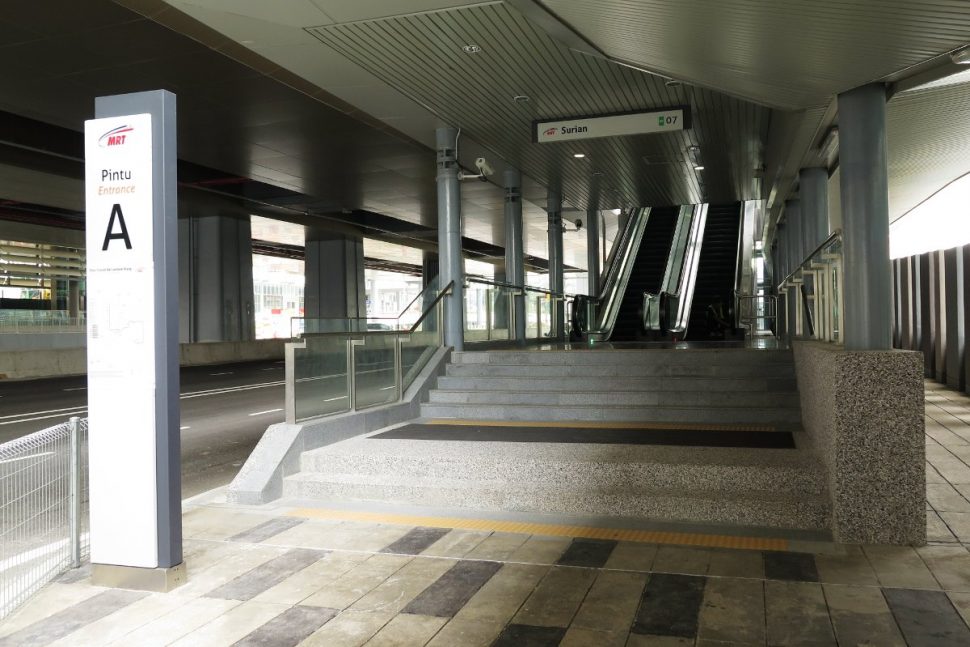 (Visited 2,341 times, 1 visits today)