Capsule by Container Hotel, living large on a tiny footprint near klia2
With the Capsule by Container Hotel, transit passengers in klia2 airport can grab a few hours of shut-eye on a bed instead of lounging in the public areas. Book yours now.
The unique "Hotel" offers 79 capsule bedrooms to those checking in for 3-hours, 6-hours, or 12-hours packages priced at RM50, RM75 and RM95 respectively.

Apart from the bed, the price includes the use of a locker, shower, lounge access and free Wi-Fi.
Accommodations
The CapSpace featured a total of 79 capsules inspired by contemporary design & sustainable living on the mezzanine floor, upper and lower decks. Female-only and male changing rooms are available on each floor.
Each capsule room comes equipped with:
2 Pillows
Foldable table
Hangers
Individual ventilation
Privacy blind
Personal locker / drawer
Reading light
Power socket
Phone (self-setting alarm calls enabled)
For travelers who may not need to rent a room, other services at the capsule hotel are also available at a la carte rates, such as a shower at RM15 or locker rental at RM20 per day.
How to go to Capsule by Container Hotel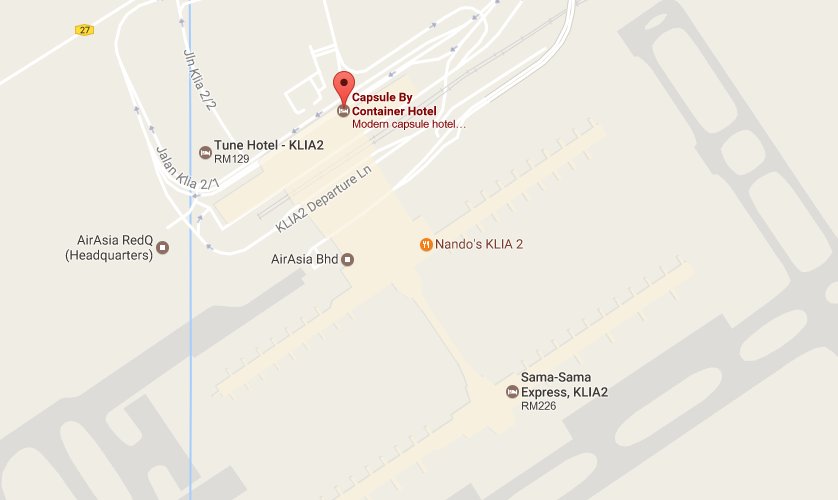 Capsule Bedrooms
The Capsule hotel idea came from the concept of the "Kyosho Jutaku", which in Japanese means living large on a tiny footprint, by building a nice and compact house utilising only a very small space.
Kyosho Jutaku – living large on a tiny footprint
The Capsule by Container Hotel at the klia2 is designed to provide flexible, high quality and affordable accommodation for travellers to refresh and recharge on-the-go.
Wash Rooms & Facilities
Book Capsule by Container Hotel
Address
Lot L1-2 & 3, Gateway, Terminal KLIA2, KL International Airport, Jalan KLIA 2/1, 64000 KLIA, Sepang, Selangor, Malaysia
Waze
Open in Waze
Book a room