Sri Enstek Hotel, a cozy stay with Malaysian cultural arts near KLIA & klia2
The Sri Enstek Hotel is perfectly located at the heart of Bandar Enstek, which is just minutes away from Kuala Lumpur International Airport (KLIA) and klia2 airport.
Sri Enstek Hotel is also an ideal accommodation choice to enjoy the Malaysian Grand Prix or the Moto GP due to its location which is just 5 minutes away from the Sepang F1 Circuit.
Accommodation
The Hotel accommodates 51 rooms well designed and furnished with the tasteful art of Malaysian culture from different states to gives you a memorable stay in Malaysia.
Family room
King room
Queen room
Twin room
How to go to Sri Enstek Hotel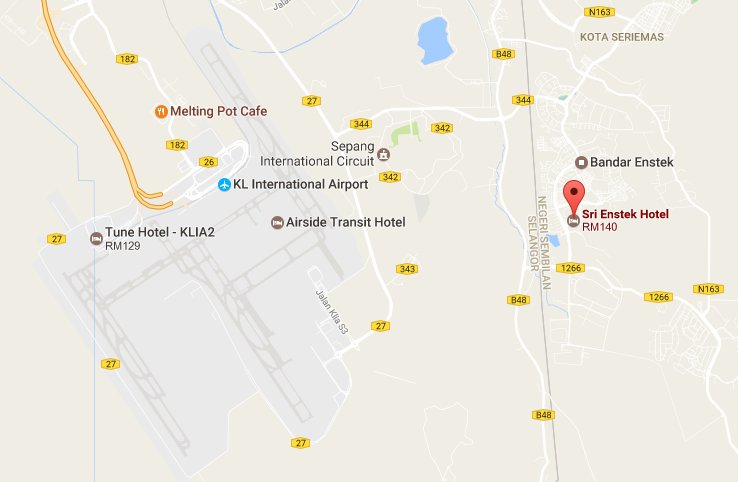 Facilities and services
The Sri Enstek hotel provides a list of comprehensive facilities:
24hr front desk
Airport transfer
Bicycle rental
Elevator
Facilities for disabled guests
Family room
Laundry service
Luggage storage
Salon
Shuttle service
Smoking area
Tours
Wi-fi in public areas
Massage
Spa
Free Wi-fi access
Car park
You can also enjoy the peaceful and green housing environment near the hotel.
To extend the comfort of your stay, the Hotel provides free beverages every morning to all guests. Along the vicinity of the Hotel, you may find restaurant, convenient store, salon and many more which are only just short walking distance from the Hotel.
Airport Transfer
The Hotel provides shuttle service between the hotel, KLIA, klia2 airports and F1 circuit Sepang.
For airport transfer, shuttle service between the klia2 airport and the hotel is provided at RM10 per person per trip, and RM20 per person per trip from midnight 12:00am to 6:55am.
Please call (603) 794-7662 or email Sri Enstek hotel at srienstekhotel@gmail.com for pick-up arrangement.